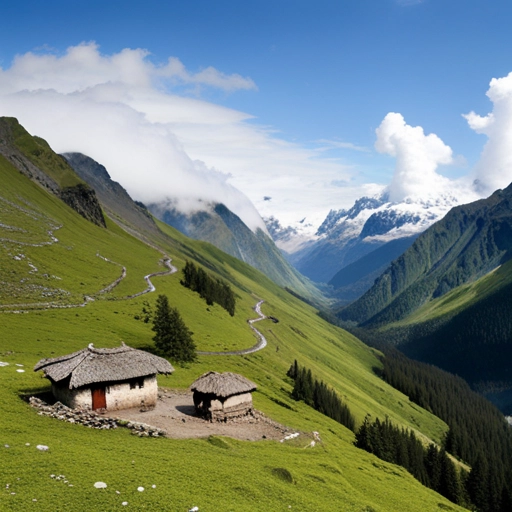 Munsiyari –A Himalayan Haven
Munsiyari is a beautiful village located in the Pithoragarh district of Uttarakhand, nestled amidst the snow-capped peaks of the Himalayas. Offering stunning vistas of natural beauty, this charming hill station sits at an altitude of 2298 meters (approximately 7542 feet) above sea level. The name "Munsiyari" translates to "place with snow," which is quite, given its snowy landscapes. Due to its amazing similarity to the scenic beauty of Kashmir, it is fondly referred to as "Little Kashmir."
Milam Glacier Trekking Tour from Munsiyari
3 Days / 2 Nights
Nanda Devi East Base Camp Trekking Tour from Munsiyari
11 Days / 10 Night
Uttarkhand Motorcycle Tour with Camping and Trekking
9 Days / 8 Nights
Kumaon Extensive 9 Days Tour Package
9 Days / 8 Nights
Overview
Munsiyari, situated in Uttarakhand, India, is a charming hill station renowned for its stunning Himalayan vistas. Nestled at 2,200 meters above sea level, it offers breathtaking views of peaks like Panchachuli and Nanda Devi. This serene town is a paradise for nature lovers, boasting lush forests, pristine rivers, and alpine meadows. It's also an adventure hub, serving as a base for treks like Milam Glacier, Ralam Glacier, and Nanda Devi. Munsiyari's tranquil ambiance and awe-inspiring natural beauty make it a must-visit destination for those seeking Himalayan tranquility and thrilling trekking opportunities.
Highlights
Spectacular Himalayan Views: Munsiyari offers some of the most breathtaking views of the Himalayan mountain range. Visitors can witness the towering peaks of Panchachuli and Nanda Devi, creating a picturesque backdrop that's perfect for photography and relaxation.

Trekking Paradise: Known as a trekker's paradise, Munsiyari serves as a starting point for numerous trekking adventures. The Milam Glacier Trek, Ralam Glacier Trek, and Nanda Devi Base Camp Trek are just a few options for those seeking thrilling mountain experiences.

Rich Biodiversity: Munsiyari is surrounded by lush forests and meadows that are home to diverse flora and fauna. Birdwatchers and nature enthusiasts can spot various species of birds and wildlife while exploring the pristine natural surroundings.
Things to do in Munsiyari
Munsiyari, located in the Pithoragarh district of Uttarakhand, India, is a scenic hill station and trekking destination known for its stunning natural beauty and panoramic views of the Himalayan peaks. Here are some activities you can enjoy in and around Munsiyari:
Trekking: Munsiyari is a trekker's paradise, offering a variety of trekking trails suitable for different skill levels. Some popular treks include the Milam Glacier Trek, Ralam Glacier Trek, Khaliya Top Trek, and the Nanda Devi Temple Trek. These treks provide an opportunity to explore the pristine wilderness of the region.

Bird Watching: Munsiyari is home to diverse avian species. Birdwatchers can spot various Himalayan birds, including Himalayan Monal, Himalayan Griffon, and Snow Partridge. Bring binoculars and a bird guidebook to enhance your birdwatching experience.

Photography: The breathtaking landscapes, snow-clad peaks, and lush forests make Munsiyari a paradise for photographers. Capture the natural beauty of the region, including the sunrise and sunset over the mountains.

Visit the Birthi Waterfall: Take a short hike to the Birthi Waterfall, located about 19 km from Munsiyari. It's a beautiful cascade surrounded by lush greenery, making it a picturesque spot for a day trip.

Explore Darkot Village: Darkot is a charming traditional village near Munsiyari, known for its handicrafts and woollen products. You can explore the village, interact with the locals, and shop for handmade shawls and blankets.
How to reach Munsiyari from Delhi
By Road:
Delhi to Haldwani (By Bus/Car):

The first leg of the journey is from Delhi to Haldwani, a town in Uttarakhand. This is approximately a 300-kilometer road trip that takes around 7-8 hours, depending on traffic and road conditions.
You can either take a direct bus from Delhi to Haldwani or hire a taxi/private car for a more comfortable and flexible journey.

Haldwani to Munsiyari (By Road):

From Haldwani, the road journey to Munsiyari is approximately 285 kilometers, which takes around 10-12 hours. The route passes through scenic landscapes, offering breathtaking views of the Himalayas.
You can hire a taxi or take a shared jeep or bus from Haldwani to Munsiyari.
By Flight:
Delhi to Pantnagar (By Flight):

The nearest airport to Munsiyari is Pantnagar Airport, located approximately 249 kilometers away. Several airlines operate flights from Delhi to Pantnagar.
The flight duration is approximately 1.5 hours.

Pantnagar to Munsiyari (By Road):

From Pantnagar Airport, you can hire a taxi or take a shared jeep/bus to Munsiyari. The road journey takes around 10-12 hours, covering a distance of approximately 249 kilometers.
By Train:
Delhi to Kathgodam (By Train):

The first leg of the train journey is from Delhi to Kathgodam, which is the nearest major railway station to Munsiyari. There are several trains that operate on this route.
The train journey takes approximately 6-7 hours, depending on the train and its schedule.

Kathgodam to Munsiyari (By Road):

From Kathgodam, you'll need to continue the journey to Munsiyari by road. The road distance is approximately 285 kilometers, and the journey takes around 10-12 hours.
Places to visit in Munsiyari
Best time to visit munsiyari
The best time to visit Munsiyari largely depends on your preferences. For pleasant weather and outdoor activities, the period from March to June is ideal. Autumn (October to November) offers postcard-perfect views. Meanwhile, winter lovers will find the period from December to February gorgeous.
Munsiyari Temperature and Weather
Munsiyari experiences a cool and temperate climate, making it an ideal destination year-round. During summers (March to June), temperatures range from 15°C to 30°C, providing a pleasant atmosphere for trekking and outdoor activities. Monsoons (July to September) bring lush greenery, although heavy rainfall may restrict outdoor adventures.